This is one of the basics of Atmospheric science, quite straightforward too!
If had to define a front in a sentence it would be; the boundary between two airmasses.
This boundary is typically the marker between cold air and warm air.
There are three types of fronts;
- Warm front
- Cold front
- Occluded front
Warm fronts are the boundaries where colder air is leading and warmer air is trailing, warm fronts therefore bring warm air in their wake. The type of weather you may expect to find on a warm front is generally stable, stratus cloud is fairly common, with drizzle, mist and murk.
Cold fronts often follow on behind warm fronts, these fronts introduce colder, more unstable air. The type of weather that occurs is usually showery in nature and can bring about some hefty showers, downpours and thunderstorms.
Occluded fronts are less common but occur in complex systems, they can bring about the heaviest rains of all, due to the injection of warm air into a cold system. Often occluded fronts are responsible for tornadoes in the USA where occlusions may intersect a cold front.
Diagram of front icons/symbols: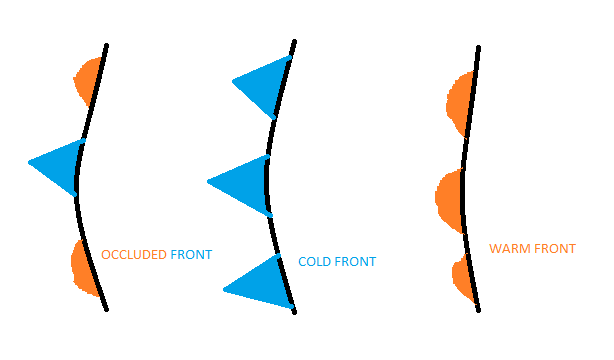 Complex Fronts
Complex fronts are systems, they comprise of fronts all adjoined to a frontal axis. A simple frontal system is either a warm front or a cold front, or an occluded front on its own, these single warm fronts are most common in tropical and subtropical areas, whilst single cold fronts are most common in Arctic areas. Because the UK is in an areas where airmasses are constantly fighting for supremacy, complex fronts are common. Complex frontal systems are a feature of low pressure, the the frontal axis is the centre of the low pressure system.
Below is a diagram of a complex frontal system.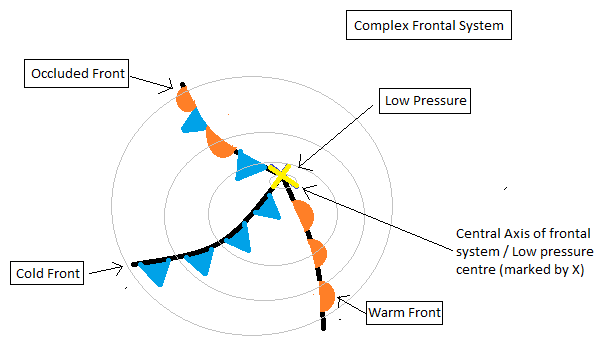 Frontal systems can be modified by the sea, for example a cold frontal system delivering snow to the east coast of North America may well have developed warm fronts thanks to sufficiently high sea temperatures, meaning by the time it gets to our shores it is a significantly warmer system, which only delivers rain. However it can work the other way around.. and we see this with Hurricanes.
Tropical storms and Hurricanes have no frontal systems as there is no airmass differential - in essence there is only one airmass involved. As the system tracks northwards into colder waters it starts to develop fronts, this is a reaction to the cooler waters, and so air often develops a warm front once the storm is a tropical depression. Once the storms enter British waters they become extra-tropical, this means the storm has fronts associated with it, which has developed as a result of the cool sea surface temperatures.
The main purpose of frontal systems is to maintain a equilibrium in the troposphere and so fronts are vitally important to our livelihoods and plants!